The abandoned town is near a (I think) PECO power plant. There are lots of farms around. Jim took the top photo, which I really love.
We have found out since that as long as you aren't causing a problem, you probably won't get in trouble or the local police office will allow you to visit if you ask first. So if you would like to visit, just call the police station first.
This town was build and booming back in the Revolutionary area when a set of locks for the Schuylkill Canal were put in. Eventually railroads started to supercede canal traffic. They filled in the canal and the railroad arrived. Then the railroad declined as well.
When PECO finished building the nuclear power plant, they bought the residences in the area. There are conflicting stories about how much notice the residents were given and how forced they were, but the result is that all the buildings were boarded up and abandoned.
We could see just a couple buildings, but there are about 10. Many of the buildings date back to the 1700's.
Of course, vandlism is a problem there, which is a shame. I would love to see it restored. I think that we might go back again, but ask permission to go on the property.
DEVIL'S ROAD:
We went back to Devil's Road as well. (Cossart Road in Chadd's Ford, PA) It was not freaky at all this time....there were no black SUV's and it didn't scare me at all. It just seemed like a cute little road - with some vandalism - with strange trees.
The trees: (you can click on any image to make it bigger)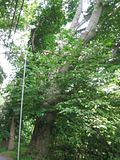 Devil's Road supposedly has a cult house on it somewhere, which any number of things did or did not happen there... we haven't found the house. There are houses along the road, but we can't figure out which one is the alleged cult house. The terrible things that happened in the house is the supposed reason the trees grow away from the road in spots along the road. Maybe you want to do your own research? By the way, Cossart Road does not have a street sign...which kind of makes it stand out more.


We also were on a sort of "goose hunt" (as my step-daughter says) trying to find the "World's Tiniest Church." We didn't set out to find it, but it was in the Weird Pennsylvania book and all of there was Creek Road, which was the road this church was on. We subsequently found out that in Chester County, basically EVERY road is named Creek Road or some form of it and after driving around a bit with no direction, we gave up.

Actually, I am going to go and do some research to see if I can find out where this church is. Anybody have any idea?