I hope everyone is enjoying their weekends!
I have been doing even more organizing. Since I have decided to not make bath and body products, I have decided to list some supplies online. I have just listed a lot of bath salt tubes on eBay.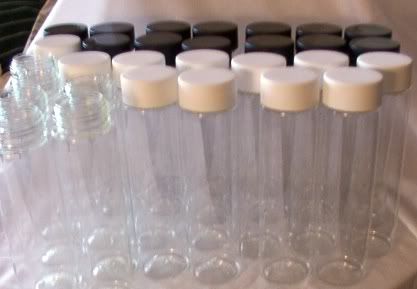 These hold 8 oz and there are 30 in total. 6 don't have lids. I have no idea...I guess I didn't get them when I ordered them. Free shipping.
You can find them in my eBay store. (Which is under construction and kind of messy, but still functioning.) The auction is starting at a super low price for these, so please take advantage.
I also have an unopened 8 oz sample of natural sea salts. They are really course and I never even opened the bag. They are unscented and large course. They look like rocks. If you would like these, just be the first to leave a comment and let me know that you want them. Please leave me your email address, as I have not yet figured out how to capture it from the comment. (Anyone know how?) If you don't want to leave your email address on your comment, leave a comment and then email me with your address.


I hope to get some more bath and body supplies listed as the weekend progresses and - gasp - new jewelry! Yes! I have been making it, just need to get pictures taken and posted.
Enjoy your weekend!
Love,
Kim