Here is my latest offering. A beautiful Christmas Beaded Charm Bracelet.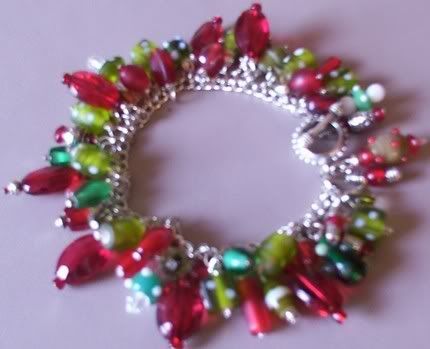 This festive bracelet is just what you need for your holiday parties! It features all kinds of green and red beads, including glass beads, acrylic beads, lampwork beads, cast metal silver beads and more. All the beads are wire-wrapped and then placed on the silverplated chain with 2 jumprings each for extra durability.It is just beautiful and so festive! There is a bead on each link of the chain.
It is on sale now in my
shop
here
!
I have been getting in a holiday mood lately. I actually don't usually even get too much into Christmas, but I think all this preparation for the Holiday Craft Show has me in the spirit. I almost feel like starting to decorate a little. But I am sure I won't....
Happy Holidays!
Just kidding!
Kim