I love weekends. Unfortunately, this one is almost over, but I hope you all had fun!
I was also able to get all of my Washer & Ribbon Choker inventory loaded into my stores. I have some in my Etsy shop and some in my eBay store. There are different chokers in each store. I am also happy to do custom orders if you have a need for a certain color or pattern.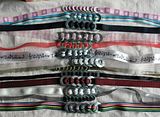 I can also do these at wholesale as well. Just contact me for all the details if you are interested.
I also made this gorgeous bracelet over the weekend. I don't have photos yet, but I will be sure to post them when I do. It is unbelievable! Of course, my boyfriend was sort of like, well, if that is what you like.... Ugh!! After a while he caved....but I was very frustrated.
I am slacking on the book auctions this week. Sorry!! I will try to get some started. I sort of want to go through my inventory and sort them into lots to sell, but I keep getting overwhelmed when I think about doing it! :)
Okay, I am off to get some orders shipped out, maybe sort some books, and do some other miscellaneous stuff.
Love,
Kim