Look at this pretty bracelet I finished this weekend!
It's made with lots and lots of beaded charms....tons of 'em.
All the charms are wire-wrapped and each charm has 2 jump rings to attach it to the bracelet for durability. It has a super strong magnetic clasp, which I have completely fallen in love with.
There was a very calming quality about making this bracelet. It is kind of monotenous, but also uses creativity to create each beaded charm.
This piece it just stunning in person. (I know, everyone says that! HA!)
It should be in my good 'ol etsy shop a little bit later!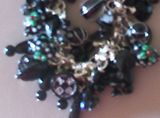 I hope everyone is having a great start to the week! So far, I am!
Love,
Kim
Update: It's listed here!