I have a confession....I am addicted to books. I pick them up, smell the new -- or old -- pages, feel the texture of the pages and I must read them. I start a book and I MUST finish it, soon..... I have been that way since I learned to read. Sometimes, life gets in the way and books are forgotten for a little while. During the school year I kind of get stuck with reading textbooks and that is all the time I have to read (I don't get the same feeling with them, somehow!) But, now that I am on summer break, I am back off the wagon (or on the book wagon...it always confuses me!)
So, you can read my previous post about the 2 books I read over the weekend. Since then, (specifically yesterday) I have finished another great book: Are You Afraid of the Dark? by Sidney Sheldon.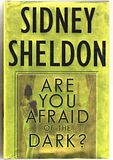 This book is a very entertaining, suck-you-right-in book. Murders, mystery, likable characters and hate-able villains. It isn't thought-provoking literary genius, but this book takes you away from your daily hum-drum life and its little problems. I really couldn't put this book down. I must admit, I did pretty much have the bad guy figured out from the very beginning, and other details long before they were revealed, but, I am also a very bright person. (Just kidding!!) I do read a lot of books, so I do tend to ruin them for myself by figuring them out. However, I still needed to read to the end and was sad when the book was over.
This would be great for a fun, get-away-from-it-all read. I really enjoyed it!
If you read this book, feel free to comment! Please. :)
Love,
Kim