So, I came home the other day and found my Sampler in the mailbox!! Whew Hoo!
I got lots of goodies that I am so happy to have received that I want to share with you!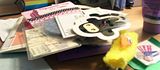 I sat down, took a deep breath, and then pulled out each item one by one.
First, I pulled out this very informative sheet listing all the contributors for this month and their websites. (I was on there!! YAY! )
The Sampler came wrapped in pretty tissue paper. (I loooove getting packages wrapped up...I feel like it's my birthday!!)
Okay, so on to what was in my Sampler.
First, I pulled out this heavenly scented guest soap from Barcelona Bath & Body scented in Lavender and Vanilla. (Two of my favorite scents!!)
(And I love it and am using it, even though I do make my own
bath and body
products!)
Next was this lovely mirror by re-conceived.com: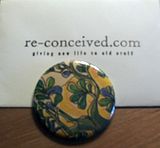 Holy Crap, I LOVE this next card! I can't wait until I have a reason to send it! It's from Ella-Studio: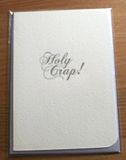 These cards are awesome, too! From Andy Pratt Design: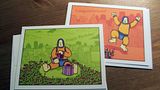 I have already put this coaster to use on my desk. I had been using a little memo pad. It's from
Kittycrossbones18 Designs
: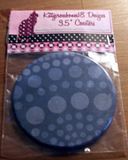 I can't wait for my next trip to use this luggage tag from Destination Unknown
: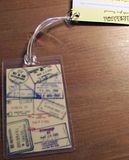 This hairpin is so perfect for me! I sometimes wear just one on the side, and this one is adorable. Also, it seems really strong, which is important when you have big hair like me! It's from Two Busy Bees, and the business card is incredible, too!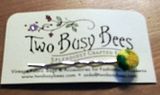 I love this ring! Very cool. The Grass Roots Ring from Eames & Lola:
(sorry the photo sucks!)
I honestly have not listened to this CD yet, but I am very much looking forward to it! From Lola Batling: (I can't find a website, but if you go to www.homeofthesampler.com it may be there!
I was so excited about the next sample, because it is like it was custom-made for me....it's pink and green! (I know, again, the photo sucks!) Handpainted suri alpaca from Traveling Rhinos: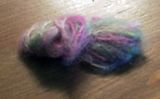 This magnet/note holder thingy is just so cute, and reminds me of the "old skool" crafts my mama used to make in the day! Now, it's on my fridge. From adeeart.com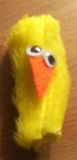 I got the following bookplate and stickers from Nut and Bee: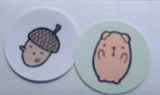 These Ninja Stickers are from shawnimals.com
: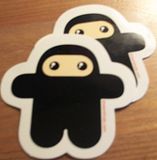 This Lapel pin is from Ceil Witherspoon's Handmade Cards & Specialties (
pwca296@aol.com
):
(perfect for Memorial day and 4th of July!)
This cute take is from Nycole Rosen:
And finally this adorable card is from Dear Monday:
(yes there's glitter!!)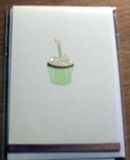 Here's the whole kit n' kaboodle:
Okay, that's my bounty from The Sampler! I am going to go and play with my new stuff now!
Love,
Kim