Hi Folks!
I realized it has been a very long time since last blogging, so I thought I would give you all a little update.
First, this past week I was in finals hell! Before that, the last couple of weeks of
school
were really rough as well. I happy to say that I have survived this past semester, took finals and am off for the summer! YAY!
Next, I have been getting read for the
Punk Rock Flea Market
!
It is tomorrow, May 12 11am - 4 pm at the Chamelon Club in Lancaster, Pennsylvania. There will be all kinds of stuff and the bar will be open, so it will be lots of fun.
I will be featuring my hardware jewelry line, and my mom is doing temporary tatoos. Plus, I went through all my beads to destash and lots of that stuff will be for sale, as well as massive discounts on some jewelry that I have had in my inventory way too long.
So come on out and support my jewelry habit! (and yours....)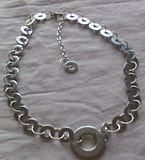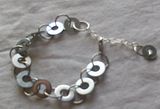 (The above bracelet was sold! YAY!)
Finally, I have listed some new items to my
etsy shop
(aforementioned hardware jewelry line), so go and check out the shop. Once I get through the market tomorrow and Mother's Day on Sunday, I should have lots more time to get stuff listed in ye olde shoppe.
Alrighty, that's what I have been up to recently. If you go to my
shop
on Saturday, May 12th, you will probably notice some items missing because they are coming with me on Saturday to the Punk Rock Flea Market. Rest assured, the shop will get back to normal (whatever normal is!!) on Saturday evening.
Love,
Kim