A couple of weeks ago I visited NYC. I used to frequent the Big Apple, but I haven't been in a few years. There are various reasons why, but my friend Cheryl and I decided it was time for a trip. My boyfriend came, too.
We picked the coldest day of the winter so far, with gusty wind. It was so windy that we came out of a subway and my fitted knit hat actually got blown off my head and went flying down the sidewalk, much to the entertainment of my friends and a couple walking down the street. Yes, I did run after it (after all, I love that hat and it was freezing without it); but, alas, no one got a picture of this unbelieveable event. I am happy to report that I got it back.
We started out the day very somber going to Ground Zero. I had refused to go before and had only driven by a few months after 9-11. We took in all the memorials and such. It was starkly quiet. Kind of spooky, really.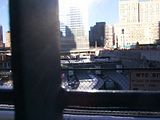 (These photos aren't great...they sort of show more the fact that the towers are missing than anything else.)
After that we headed off towards Chinatown. I couldn't believe that even in the cold the street vendors were actually outside. Jim found a couple of deals, but as hard as Cheryl tried she couldn't find a suitable purse. Either people were right on top of you trying to sell purses that she didn't want or no one was around when she did find a purse she liked. uggh.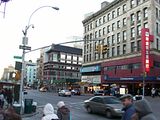 (Isn't that Chinese building cool?)
Then we headed over to Little Italy to have a meal. We found this wonderful little restaurant and had hot chocolate with loads of whipped cream, sandwiches and Italian beer. Actually, Jim had the beer.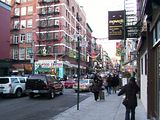 (Notice the Christmas decorations on Jan 20th.)
Then back to Chinatown for some more shopping.
Then we were headed off to a few other locations that we had never experienced. I was getting grouchy and wanted to go home, though. I was cold and didn't really feel like being outside and hanging out in NYC anymore. We really only had a short time to be there. Also, when we were planning on going I really couldn't even think of a single thing I wanted to do there, I just wanted to be in New York. Unfortunately the bitter cold didn't work out. Plus, I really wanted to get home and have game night with my board game buddies. Maybe I am getting old or something, but I really enjoy me a game night. :)
We are planning on waiting until Spring and trying it again. This time I am going to know what I want to do and I am going to take tons of photos and be happy instead of cold and miserable.
Okay Belles, I need to run for now, I have so many things that I want to get done on my "to do" list tonight that it is insane! I am feeling sort of frantic or maybe manic is more like it. I really want to get some schoolwork and other things out of the way tonight so that I have more time over the weekend to do an update in my Etsy shop (
http://bbbellezza.etsy.com
) I have been out of commission with my store for quite some time now and I really am ready to get back into again.
Thanks for your love and support!