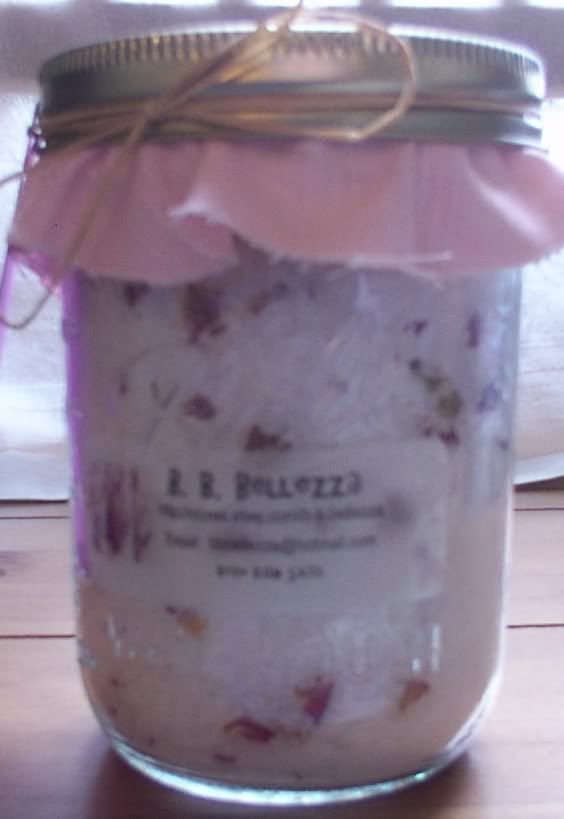 My Bath Salts are back, individually listed in my eBay Store.
Prices are:
$8.00 for a quart
$6.00 for a pint
$3.50 for 1/2 pint
They come in adorable ball jars with fabric on the lid and raffia tied around them. For $1 more I will send along a wooden scooper to scoop out your bath salts.
They are made with Essential Oil or Fragrance oil (See my Aromatherapy Page for more information) and herbs, Epsom salts and baking soda.
(Pint size shown above.)
Why are Bath Saltsso Great?
-Help detoxify the body and ward off viruses
-Stimulate circulation for improved health
-Help relieve athlete's foot, corns and calluses
-Relax tense, aching muscles and joints
-Help relieve arthritis and rheumatism
-Draw out impurities in the skin
-Sooth skin irritations
-Sooth itching, burns and bites
-Smooth and softens skin
-Encourage skin to renew itself
-Help scars to heal
-Restore moisture balance to the skin
-Relieve tired, aching feet and leg muscles
-Ease tension in hands and wrists
-Help relieve sports injuries
-Provide deep relaxation
-Help relieve stress and tensionPromote sleep.
Find these and other wonderful handmade bath & body products at my eBay store. B.B. Bellezza. http://stores.ebay.com/B-B-Bellezza
Feel free to email me if you aren't registered with eBay and don't want to be. BBBellezza@hotmail.com