Thrifty Travel Tip of the Week: Food

When travelling you must eat. Obviously. If you are going for a day trip, at some point you will need lunch or dinner, possibly both. If you are trying to save money, bring your food with you. Our usual routine is to grab some bread or rolls, lunch meat, condiments and chips. We pack some paper napkins and water, too. You could pack anything you don't need to heat up.
We have had our picnics just about anywhere. We have eaten at picnic tables when they are available, park benches and in the grass. It's fun and it's cheap. You save your money for the attractions you want to see. Another positive is that it seems like you really get to talk to each other during this time, especially if you have a large family.

Recently my family went to Knoebles Amusement Park. While Knoebles has really affordable food, we still decided to pack a picnic. It is really convenient because there are actually tons of picnic tables there. We found that the experience was more enjoyable because we actually could all talk to either other better than in a restaurant. We also had the picnic table the whole day, so we went back and had dinner at the picnic table, too.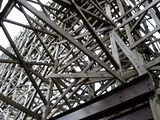 Trip Re-cap: Knoebles Grove

I highly recommend Knoebles Grove in Elysburg, PA for a great day of family fun if you want to go to an Amusement park. Parking is free and admission is free. You just pay as you go for rides. (I do think you can get a wrist band during the week for unlimited riding for a very reasonable price.)

We bought $100 worth of tickets (you can buy $150 worth of tickets for $135). We had 4 adults who really like to ride rides, 2 who like some rides, a 12-year-old, a 5-year-old and a 3-year-old with us and we rode all day for $100. Knoebles is great for a diverse family like ours because we don't feel like we had to get our money's worth for the admission price - because it's free! We didn't have to run from ride to ride and worry we were running out of time. The tickets can be used from year to year and do not expire. Most of the regular rides were around $1 to ride and roller coasters were more.

We were there on a Saturday and the lines were not long at all to get onto rides. We would usually have to watch the ride for one time or two around and then we were on it. The longest line we waited for was the Haunted House.


Another cool thing about Knoebles is that it is in the woods. It was a really hot day, but I really couldn't have imagined how hot it would have been at your normal amusement parks that are usually paved and have no shade.



Finally, Knoebles is family owned. It's not a big franchise. It has a real family feel, too. I just feel happier knowing that.

If this seems like a commercial for Knoebles it's probably because I have been going there every year since I was a small child and it really is just great.