Well, I have been on a jewelry-making spree here. I haven't taken any photos, however, because I have been too busy making things. I have some really cool new items, too. I might not get a chance to get them up before the weekend.


I have another show coming up. I will be at Eastern Market on Saturday from 9am - 2pm; 308 East King Street, Lancaster, PA.


I wanted to finish my Road Trip Series from Memorial Day Weekend. It seems so very long ago now....even though it really wasn't actually that long ago.


Part I
Part II
and now, Part III:


We left Centralia and stopped at May's Drive In in Ashland. This is interesting because there are only 3 May's Drive In's....and one is in my hometown of Hughesville, Pennsylvania. I had vivid memories of begging my parents to stop for ice cream and have twist soft serve with rainbow sprinkles. I had exactly that!


Now, I can't particularly remember how or why we decided on our next destination, but I think it was Jim's idea. We headed to Jim Thorpe, PA. I thought I had been there before, but as soon as I saw it, I knew I hadn't.....but I get ahead of myself.


On the way we passed the Lehigh Gorge, so we checked it out. We saw tons of buses going down the road for white water rafting. You could hike. Again, (if you read my previous entries) I was in flip flops and a skirt, so hiking wasn't really an option...especially with all the warnings. And I am not sure that white water rafting is an option in my head ANYtime, honestly. But, maybe some other time.


I didn't really get any good photos, because the best photos were going over the bridge...I tried and they didn't really come out. Also, the really good photos I assume would have been taken on the dangerous hike.


But, here is a photo of the river where people start the rafting:

click on any photo for a larger view
So, then we drove to Jim Thorpe, PA. Like I was saying, I thought I had been there before, but I definitely had not, I would have remembered. It was the cutest town I have EVER seen. I am completely in love with my city, too (Lancaster, PA), but I seriously was begging to just stay in Jim Thorpe. I was planning out my gallery for my jewelry and "it doesn't matter that it's hilly and our cars stink in the snow....we will just get an apartment over our gallery."
That's what Jim Thorpe is for me. I just seemed like all my dreams could happen in this adorable town. Like everything could start over there. I could unlock myself from my stiffling day job and be free to create all day long. But, it is mainly because it was just a dream. I mean, I can do all of this in Lancaster, too, if I really just set my mind to it. (which I have, by the way....I am working on it!)
Anyway, here are some photos from Jim Thorpe, PA.
This is the view from Jim Thorpe....The photo sucks, I know, but I wanted to show you it was up on a mountain.
This was an awesome mansion in Jim Thorpe.
This is my attempt to take a photo of the town while driving.
This is a prison. The famous Molly Maguires were supposedly hanged at this prison. Also, there is a handprint in the prison that cannot be removed no matter what they try. Creepy. It is actually a museum now and I have read that you can even take tours in complete darkness, but it wasn't open when we were there.
I will definitely be checking this out again!!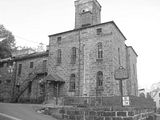 Actually this reminds me, I was going to see if there was a craft show there just for an excuse to go back.
We drove home from there. We were exhausted, but fulfilled. All in all we were on the road for 9 HOURS! It was an awesome day. Gas is expensive, I know. But we drove around all day on a tank of gas and the only other expenses were lunch and waters along the way. And it was seriously one of my best days ever!