Today, we went to Roadside America, Miniature Village.
We got the "
Weird Pennsylvania
" book and found all kinds of strange things. Roadside America was one of these strange things.
If you have ever driven through this part of PA on route 78, most likely you haven't missed the strange, giant Amish couple that sits in the parking lot. For absolutely no reason at all, might I add. It is an oxymoron considering it is outside of the "miniature" village!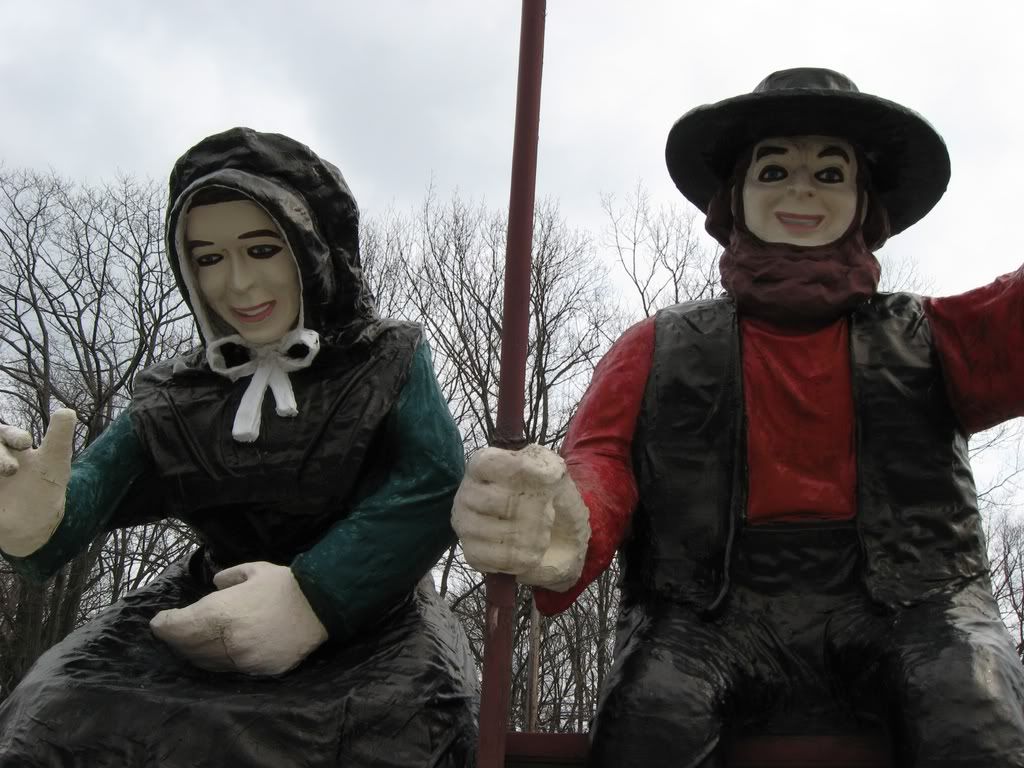 I had a major case of the giggles once we hit this statue. Of course, they are super creepy, too! So maybe I was giggling out of fear!
The outside of the building looks completely uninspiring, but it does say to expect to see more than you expect....perhaps to make up for the uninspiring building?
We walk in through the gift shop. Normal gift shop for the area....hex signs, amish dolls, other stuff.....if you have every been in the Lancaster County/Berks County area, you know what I mean.
We buy our tickets and walk through curtains and come to a door. My heart was beating fast....I mean, this kind of reminded me of haunted house or something. And, I still had the giggles. We were so excited and.....
It was completely amazing, strange, and....completely impossible to put into words. It was difficult to get a good shot of the entire room.
There were tiny little villages, trains, people, zoos, carnival, WATERFALL, airport, airplanes, hot air balloons......dude, I could go on and on and on......
Here are a couple of photos I took:




that miniture cemetary is one of my favorite parts! and the church bells rang!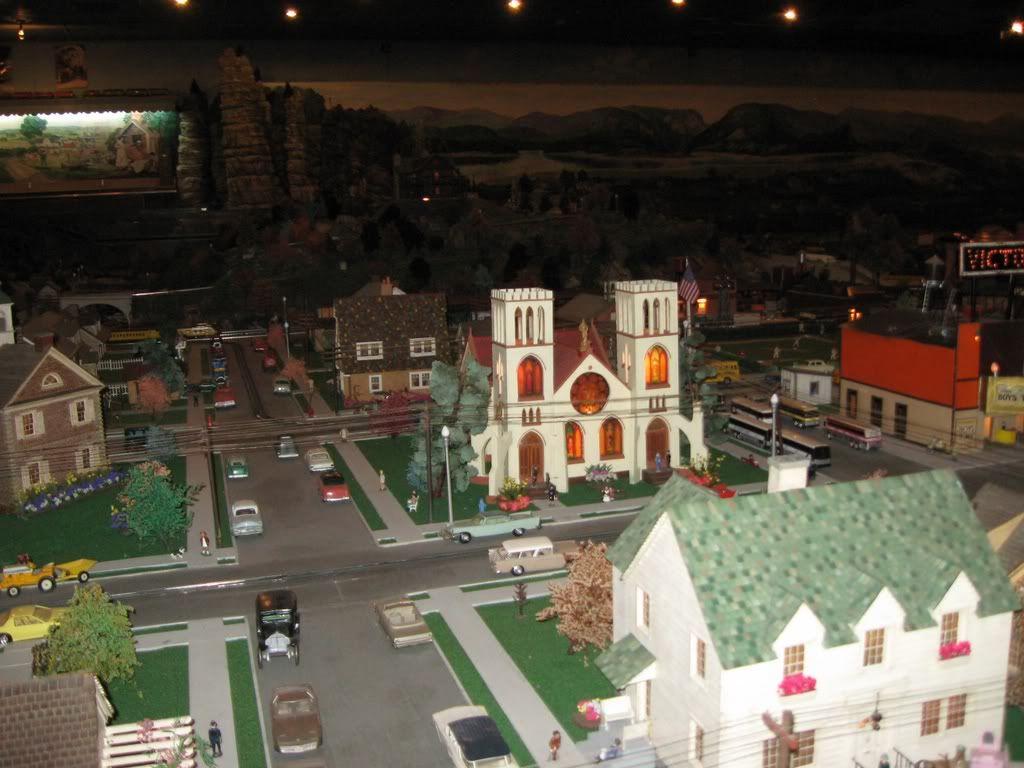 that chuch had music!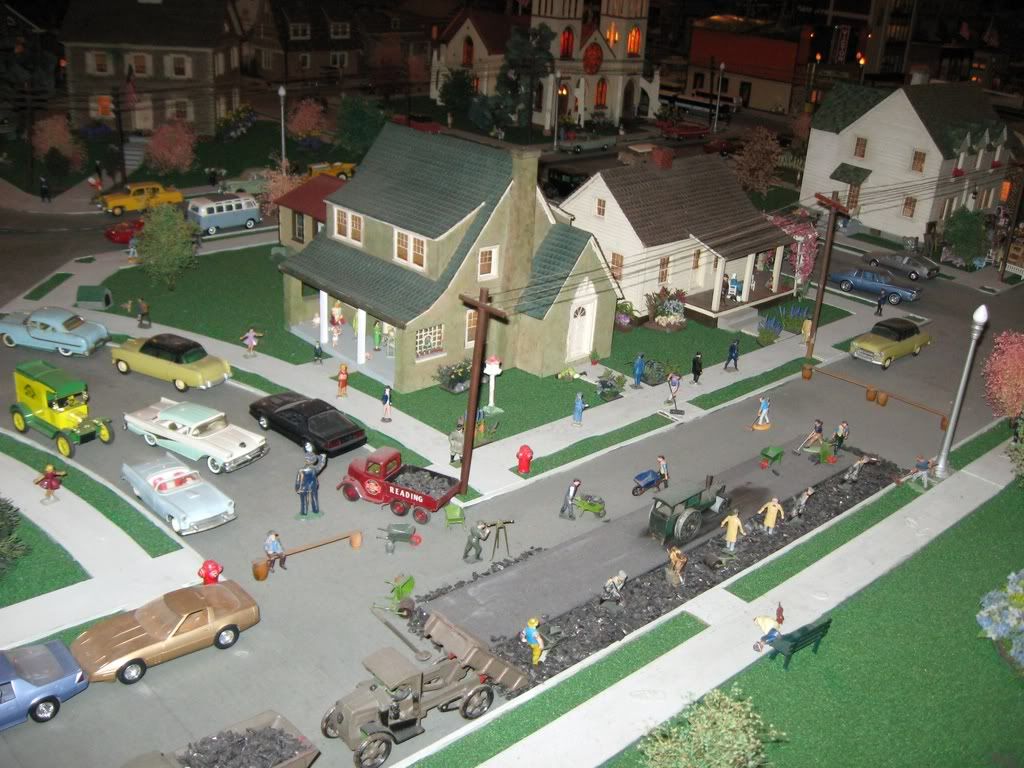 See those guys working on the road? That roller moved!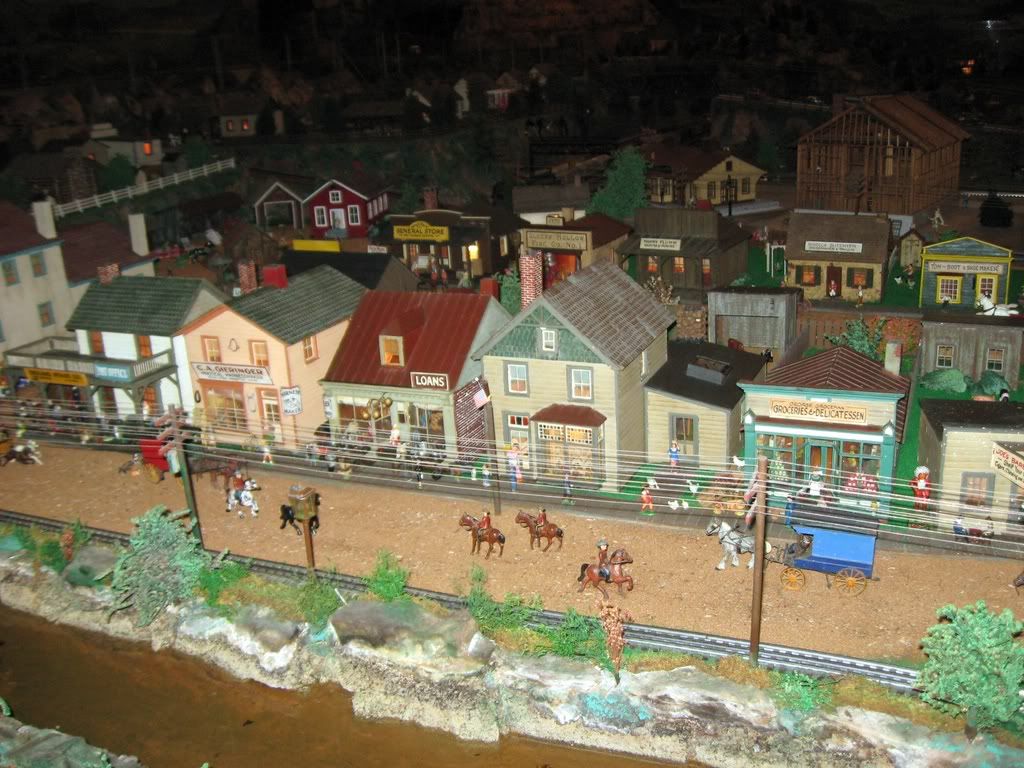 Mini WW II monument!


Each hour they do this Nighttime pageant thing where they turn down the lights and do a really cheesey....but also very heartfelt and almost tear-jerking....slideshow. All the little houses and businesses turn their lights on, the train is going through, the waterfall is lit up, the airplane....it is so wonderful and lovely.
This was one man's dream and one man's art. He used to look out his window at night and he recreated what he saw. You can read the whole sweet story on the
website
.
Really, if you are somewhere close by, check out Roadside America! You will be glad you did!