Wow! I have been listing tons of earrings lately. I love earrings, actually. I really enjoy making them, too. But I didn't seem to be listing them. Until one day when I decided to list a bunch!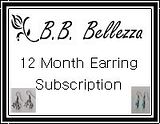 I have also added an Earring Subscription Service! I totally love this idea! You buy the subscription and then at the beginning of each month you receive another pair of earrings. I might even add a page to my website to vote between a few different designs for the next month's earring pair!
I am thinking of doing an auction on
eBay
for a subscription, too. I will let you all know if I do that!
Other than that, we're just back to the 'ol grind at the day job, and packing up orders at home.
Everyone have a great week!
Love,
Kim