It has been the craziest, one of the most awful days in paralegal-land. Some days this job is great, some days I wonder what the hell I am thinking ... today it is most definitely not great!
But, last night, in MY-land, i.e. B.B. Bellezza, I listed some cool new necklaces and earrings in my eBay store! Check 'em out!
Adorable pewter heart charm earrings!
Razor blade Earrings....edgy... get it! HA! (okay, so it's been a really long day!)
I really think these pewter star earrings a very cool, too. They are super fun to make, too. I have a pair I wear a lot:
Hollowback brass stamped birds and cool heart earrings. I love these, too!
I have a collection of charm necklaces, strung on black leather cord. They are different sizes and with different brass charms. I am happy to customize these, just ask. The following are listed in my store: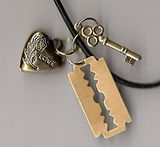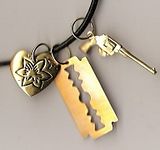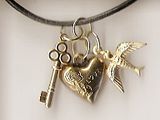 This is a ribbon choker with charms on it. I have a lot more of these to list, but here's one:
You can click on the photos for a larger view.
Everything is available to buy in my eBay shop:
http://stores.ebay.com/B-B-Bellezza
Maybe if enough people buy them, I can quit this hellish paralegal gig. ....hint...hint!
I hope to work on my Etsy shop a little tonight, and maybe put some more stuff in the eBay store. (We will see....I have some birthday party planning for the weekend to do yet, too.....)