This is my new banner on Etsy! I LOVE it! It was made by
http://NeedfulThings.etsy.com
It is made with my favorite colors and it is just perfect for me!
Speaking of my favorite colors, here is a new bracelet I just listed in my Etsy shop:
Pink and Green Charm Bracelet
This bracelet is made with tons of bead charms. They are all wire-wrapped and attached with 2 jumprings so it is really sturdy. It features a really pretty and unique flower toggle clasp. This bracelet is almost 9" long, but I will happily size it down for its new owner, if necessary.
http://BBBellezza.etsy.com
Other items I have listed are in my Hardware Jewelry Line:
Nuts and Bolts Bracelet (okay, it's just nuts...)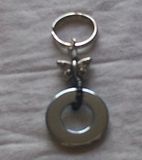 Washer Keychain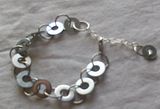 Washer Bracelet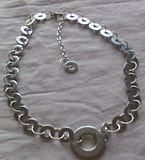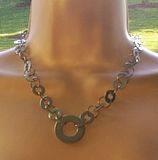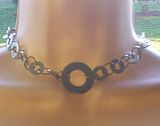 Washer Necklace. It works as a choker, but depending on your neck size it could be a regular necklace with the extender chain.
All of the above from my Hardware Jewelry Line can be customized by size and by clasp type. You can pick sizes for the bracelets up to 9" long, and you can pick either a toggle clasp or a lobster clasp with an extension chain.
The washer necklace is about 17" with an extension chain of about 3". I can make this smaller if it is necessary.
I also listed a dream pillow -- there will be many more to come!!

I just finished up listing a these items on my Etsy shop: http://BBBellezza.etsy.com. I have been making this stuff for a while, but have been holding off on listing them, well, for various reasons. Now I have decided to list 'em despite the reasons.
In other news:
I will be at the Lancaster Punk Rock Flea Market on Saturday, May 12th from 11 a.m. to 4 p.m.!! I haven't done a show for a while, so I am very excited.
I will have my new Hardware Jewelry Line as well as lots of skull jewelry, and other jewelry -- tons of earrings--, rings, keychains. I am so happy to have my mom along (she always comes to visit for the weekend of Mother's Day) and she will be doing temporary tatoos!! What fun!! I am not sure what all else I will have, but I am working really hard to get everything ready!!
I am so happy it is finally WARM!!
HAVE A GREAT WEEKEND!!