I have listed 4 oz shower gels in the store this evening!
This is Lavender with Lavender Buds...I can make the shower gels with or without the herbs.

This is a picture of the 8oz and the 4oz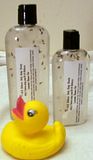 Here is my product line thus far in the shop: Shower & Bath Gel, Bath Salts, Sugar Scrubs: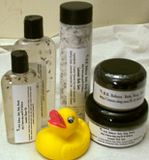 These Shower & Bath Gels are wonderfully thick and moisturizing. The ingredients are pure and natural. I love these gels!
I plan on making 2 oz samples variety packs, too, which will be fun.
Check them out in my store!
http://stores.ebay.com/B-B-Bellezza
Plus, free gifts while they last!!!
Thank you and good night.