July 2009 Newsletter
I cannot believe that June is over already (or will be very soon!) Where did this month go? I hope you all are enjoying your summer so far!
The winner of the monthly drawing for June was Sophie! She won a pair of earrings of her choice!
The Big News is that I am having an Open House on July 11, 2009 1 p.m. – 3:30 p.m. at Building Character!
When: July 11, 2009 1 p.m. – 3:30 p.m.
Where: BUiLDiNG CHARACTER, 342 North Queen Street, Rear, Lancaster, PA
There will be discounts, door prizes, and snacks! I will do a little presentation about my business – what I do and why, and show my new designs!
A percentage of the proceeds will benefit Lancaster Buy Fresh, Buy Local.
Everyone is invited, so let anyone know who might be interested!
First Friday
July 3, 2009 6 pm – 9 pm
At Building Character 342 N. Queen Street, Rear, Lancaster, Pennsylvania
Music Friday
July 17, 2009 6 pm – 9 pm
At Building Character 342 N. Queen Street, Rear, Lancaster, Pennsylvania
Tentative
: (check my events page or blog to make sure I will be there)
Jazz Fest
, July 18, 2009 9 a.m. – 2 p.m.
At Eastern Market 308 East King Street, Lancaster, Pennsylvania
New Items:
I am trying to consistently update my Etsy Shop once a week on each Wednesday.
Here are a few things that will be listed in my shop soon.
Outta the Way! Zine
: This is a collaboration between my boyfriend Jim and I. We will be bringing you out of the way and inexpensive places around Pennsylvania to check out.

Volume 3 will be out tomorrow July 1, 2009. Check in my Etsy Shop or get a copy by emailing us. You can also check out our blog for weekly posts.
(Volume 1: Central Lancaster County, and Volume 2: York County are still available in limited quantities)
What's a Zine?
A self-published, underground publication.



Peek Through the Secret Keyhole

:A new necklace made with Keyhole Covers and watch parts. See my blog for more information about this particular piece. It is currently available at my booth at Building Character and will be available on Etsy soon.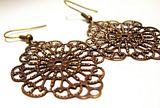 Brass Filigree Earrings
: These are available at Building Character and will be available soon on Etsy.
There will be a lot of new items in my booth at Building Character in the next couple of weeks preparing for my Open House.
My Etsy store will be getting a huge update before the Online Open House on July 19th as well.
I give monthly discounts to my email newsletter subscribers! Sign up and you will receive a monthly discount, too!
All of my loyal email newsletter subscribers will be entered into a drawing for your choice of Scrabble Tile Pendant this month. All you have to do is sign up and confirm in the follow-up email! (Sign up at any show, at my booth at Building Character, or by sending an email to me at BBBellezza@comcast.net and let me know you want to subscribe.)


A bit of a change for the giveaway: I will be adding my Facebook page fans into the giveaway as well!! So, if you subscribe to my email newsletter AND are a fan on Facebook, then you have 2 chances!


Facebook: http://artist.to/BBBellezza
I am basically on Twitter mostly all day each weekday and sporadically throughout the weekend.