Comments are now closed for this giveaway! Winner will be announced February 12, 2009
If you won, I will email you and you will have 3 days to respond to my email. So, check your email tomorrow, and look for a blog post announcing winners tomorrow as well!
Thank you all so much for participating! It has been great fun getting to know everyone! And please, don't be a stranger!
Welcome to B.B. Bellezza's One World - One Heart Giveaway.
If you are new to my blog (and I suspect many of you are!) Welcome!! Welcome to old friends, too!
I am so thrilled to be a part of this again this year! This is such a great way to meet people and to find all kinds of fun blogs. Not to mention, get entered into drawings and possibly win something!! YAY!
So, for all the One World - One Heart info, just click on the world above. There is still time if you want to get involved yourself.
To enter this contest, just leave me a comment. Both bloggers and non-bloggers are welcome here! If you don't have a blog, just use the anynomous comment, but please make sure you leave a way for me to get in touch with you! (i.e. your email address)
I will be pulling 4 random winners on February 12, 2009, when the contest ends. At that point I will announce the winners here on the blog and also email the winners.
I am giving away 4 prizes!
Prize #1
This is so exciting!! Prize #1 is actually going to be a custom-made charm bracelet! The Winner gets to choose the color. The bracelet below is example of my work!


The winner of prize #1 will be emailed and asked for their favorite colors and then I will make the bracelet and send it off within 2 weeks. I know you will have to wait a little longer, but isn't so worth the wait?

Prize #2
Sunburst Washer Earrings


Prize #3
HardWire Keychain

Prize #4
Multiple HardWire Earrings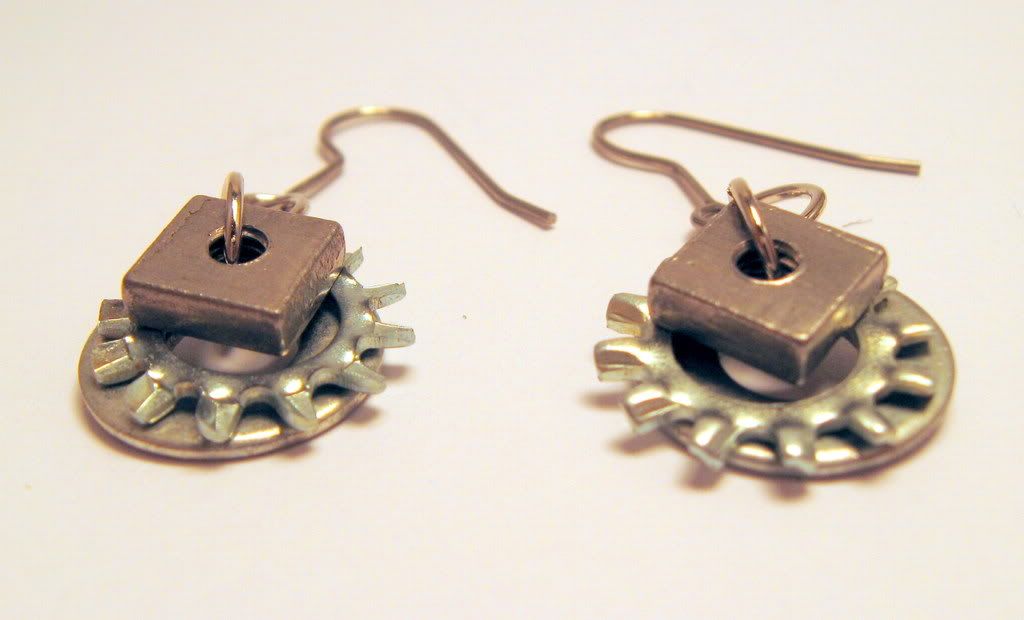 So please just leave a comment here with some way for me to get a hold of you. Then, February 12, 2009 I will pick 4 winners and email them!
Good luck!!
and I will see you around.

(and come back even after the contest is over! I have a lot in store for 2009 here! You might even want to join my newsletter to make sure you keep in touch. Just send an email to BBBellezza@hotmail.com with "subscribe" in the subject line to join, if you would like! Or follow me above on the right.)
Love,
Kim
B.B. Bellezza
Update 2/10/09: Wow! I can't beleive all the comments!
I will be closing the comments for this blog post (and thus end the contest) February 11, 2009 at 10 p.m. Eastern time. I will be using a random number generator to pick the contest winners and contacting them and announcing the winners on February 12, 2009 sometime during the day, so check my blog to find out if you won, or check your email!
After I email you, you will have 3 days to respond with your mailing address, or I will pick a new winner.
Good Luck!! :)