Oh, my.

Sunday night.

I should go back and look if I ever blog on Sundays and what is my mood. I hate Sunday. Yes, HATE. It's the last day of the weekend. I get depressed. I start to dread Monday. I know it would be so much better if I would just enjoy my Sunday without thinking about Monday, but I just can't help it.

At any rate, I made this necklace yesterday: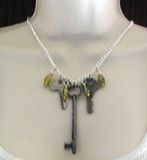 I have an
auction on eBay
for it right now. Woo Hoo!!
Well, I am going to go and mope around until its time for the Simpsons. Enjoy the rest of your Sunday!
Love,
Kim