Last night I shared the first of the series of my "Sending My Love From Nippon" ACEO series, but here is the full set: (You can click on each photo for a larger view)

Sending My Love From Nippon 3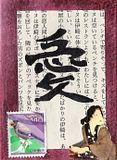 Sending My Love From Nippon 2

Sending My Love From Nippon
(For whatever reason I have them showcased backwards...oh well! #3 is my favorite anyway!)
All three are available in my
Etsy Shop
right now. $5 each and free shipping. I hope you like my first listings of collage ACEO's.
What is an ACEO?
ACEOs (Art Cards, Editions and Originals) are miniature works of art that are the size of playing cards or trading cards. They fit in trading card albums or you can frame them. I think that they make lovely gifts. Highly collectible and highly obssessive!
More to come...and larger collages!
In other news, I have started school again. That, in addition to other personal reasons, has caused my shipping policy to change. I will only be promising shipping once per week. Special or custom orders will likely be created on weekends only. I hope you understand!
Also, I despirately need to work on my
website
, but I hope you bookmark it to find it later!